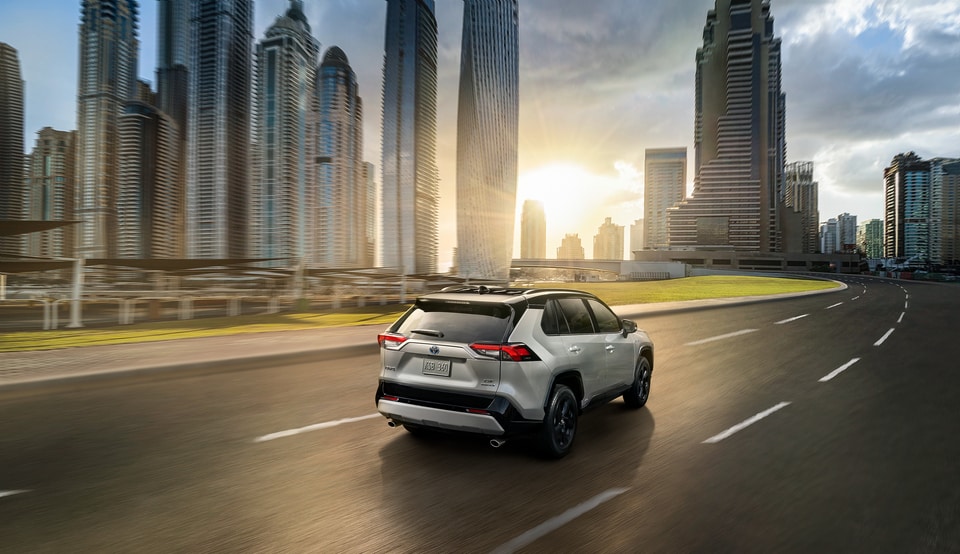 Efficiency Meets Style
Corolla Hybrid, Camry Hybrid, Avalon Hybrid and the all-hybrid Sienna show that good looks can go a long way.
Explore Hybrid and Electric Vehicles at Toyota on Western
Over 20 years ago, the first Toyota Prius debuted, paving the way for a generation of industry-leading hybrid models. In recent years, Toyota has continued to innovate by combining the near-instant torque of electric motors with premium technology. Designed to be less expensive to operate than traditional gas-powered vehicles, new Toyota hybrid and electric models are capable of providing a thrilling driving experience in Chicago while saving you money.
All About Alternative Fuels
If you regularly commute on the roads of Oak Lawn or Orland Park, you'll likely come across several hybrid-powered and electrified vehicles without even realizing it. With many manufacturers implementing hybrid powertrains as an optional trim, the exterior of these vehicles remains virtually identical to their gas-powered counterparts. Usually, hybrid vehicles have smaller engines, aerodynamic body styling, and greater resale value.
While many shoppers think that smaller engines mean less power, the amount of performance that can come from modern electric motors is impressive. Rivaling the performance of traditional vehicles around Bucktown, you could save money on maintenance and upkeep throughout the vehicle's life. Overall, these vehicles are an excellent choice for drivers of all ages, and Toyota on Western has plenty of great options available for purchase or lease.
Shop Hybrid Vehicles at Toyota on Western
With a large push for better fuel economy, Toyota has created top-performing hybrid vehicles in nearly every class. Giving you up to an EPA-estimated 53 MPG Highway in the 2022 Camry Hybrid or 58 MPG City in the 2022 Prius, our new Toyota hybrid models allow you to go further without the need to charge up. Available models include the:
2022 Toyota Prius
2022 Toyota Venza
2022 Toyota Sienna
2023 Toyota Sequoia
2022 Toyota RAV4 Hybrid
2022 Toyota Camry Hybrid
2023 Toyota Corolla Hybrid
2022 Toyota Highlander Hybrid
2023 Toyota Corolla Cross Hybrid
2022 Toyota Tundra i-FORCE MAX
Explore Plug-in Hybrid and All-Electric Toyota Models
As the automotive industry shifts away from fossil fuels, the electrification of personal transportation has taken off by adding larger battery packs and motors. Although most electric vehicles like the all-new Toyota bZX4 can travel over 250 miles on a single charge, some drivers fear running out of power. At Toyota on Western, we encourage you to browse our Plug-in Hybrid Electric Vehicles (PHEVs). These vehicles allow you to charge up for trips around town while utilizing a traditional combustion engine as a backup when the batteries run dry. The available PHEV and all-electric models include the:
2022 Toyota Prius Prime
2022 Toyota RAV4 Prime
2023 Toyota bZ4X
Explore Our Toyota Hybrid and Electric Vehicles in Chicago
With a wide range of exciting Toyota models that harness electric power, choosing which model you'll like the most is the hardest part. Our experienced sales representatives are here to provide you with an informative buying experience that leaves you feeling relaxed. Contact a member of our sales team to schedule a test drive and get behind the wheel of a new Toyota hybrid or electric vehicle today!
2022 Camry Hybrid
Camry Hybrid is always dressed to impress with its captivating style, and excels when it comes to responsive performance. Camry Hybrid's Dynamic Force Engine has both power and premium fuel economy ratings to help optimize efficiency.
2022 Sienna
Stylish on the outside. Functional on the inside. With a hybrid powertrain and available All-Wheel Drive (AWD), Sienna.
2022 Highlander Hybrid Bronze Edition
The hybrid for larger crews, Highlander Hybrid has the power and efficiency you want, with the space you need. It seats up to eight and has a manufacturer-estimated mpg of up to 36 combined 45 and 243 combined net horsepower, to take everyone the distance.
Info
Avalon Limited Hybrid shown in Opulent Amber with available Advanced Safety Package. Prototype vehicle shown with options using visual effects.
Innovation Is Power
Setting the pace for all Fuel Cell Electric Vehicles, Mirai generates power by combining hydrogen with oxygen from the outside air.